My first washcloth, voila: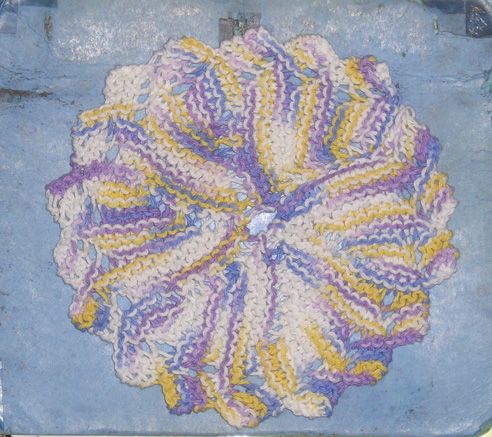 After I finished it, apparently I felt like I needed yet more to knit. Then I discovered that Someone's birthday is coming up -- someone I've been planning to knit some socks for ever since she sent me some Good Stuff for my birthday. Cackle! So I just put in my third order to KnitPicks in a couple of months (and no end in sight; I'll probably put in yet another when I figure out what I'm making as a baby present for a friend in Portugal), and not just for the socks, oh
no
, certainly not just for the socks. Because I was a good girl and am using
KnitPicks's Two at Once, Toe-Up
sock pattern, which is free, I am allowed to splurge on another sock pattern, the
Almost Argyle
one, which intrigues me because I always liked Argyle socks...
But all socky goodness aside, I also ordered some yarn for purposes of knitting
the Branching Out leaf lace scarf
which appears in an issue of Knitty. I really did kind of want to knit some lacy socks, since Said Person explicitly invites all sorts of socks and includes lacy ones, but I'm contenting myself with the lace scarf for now. Perhaps for Christmas I shall do the lace socks. ;)
In any case, that's two more projects in the queue. This Pi shawl knitting thing seems to have broken my lace block, though we'll see when I try to go back and knit something else in lace, won't we...
It'll be especially funny when I go back after I finish the KYOAMPi (::crosses fingers::) and realize I've knit a lace shawl in lace-weight yarn (which I've also never used before), using not one, but FIVE charts. Ack! Sayeth she who didn't even really know how to read a chart before she did the KYOAMPi! Next thing you know, I'll be knitting Fair Isle.
Still haven't washed those fleeces. La la laaaa. Still haven't started those mini-books. La la laaaa. I did pick up some paint chips today for the covers, at least. And I do have my theme picked out. Now I just have to, like, bind them and make the art and stuff. ::rolls eyes:: Yeah. Just. ;)