One more UFO off the radar! It's Julie's Kool-Aid-dyed pink variegated corkscrew scarf (pattern care of the lovely
Loop-d-Loop
, which I think wins the Most Items Knitted From a Single Book in a Short Span of Time award for me so far):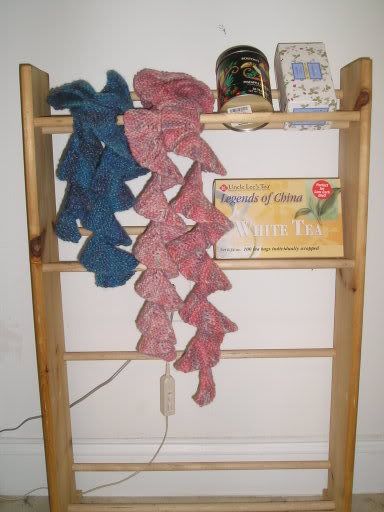 It's hanging out with Morgan's blue corkscrew scarf, as yet unsent although long finished, because corkscrew scarves like to be together when they can. Both are in Jo-Ann yarns (I think Bellezza Collection, and the pink is wool/cotton possibly by the name of Dolcetto).
I was also going to post a semi-tutorial on how to make combed top (or at least how I make combed top), but I've chickened out during the final proofreading.
Current Project I Should Be Working On But Am Not: Mother's dress for the sister's recital. But I did cut all the pieces for the mock-up yesterday. *cough*
Next up on the radar: my first knit-along, with the kindly and wise knitters of EZasPi. Yes, my first knit-along will be of a Pi shawl. Lace and I are going to war.