(It's almost like the title to a bad romance novel?)
Here's a better photo of that funky jewelry from yesterday: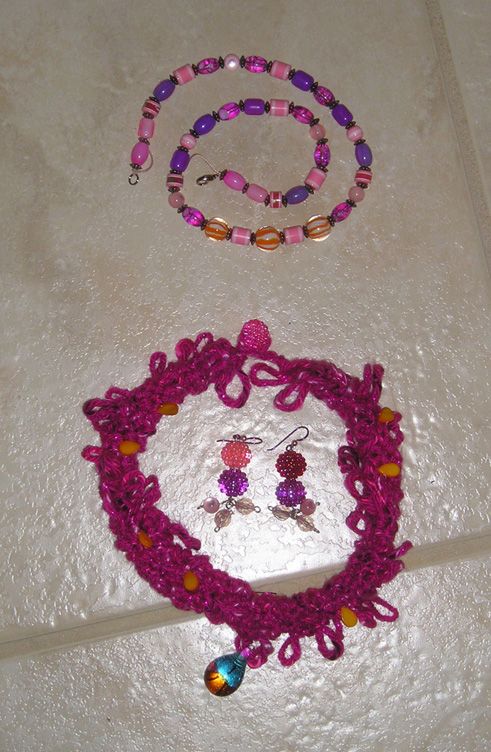 The person I'm trading with likes! Yayyy! I'm still going to make at least one more pair of dangly earrings, I think.
I also sent a photo of the sample handspun mini-skeins to the person who might buy some from me. Here's hoping she likes, too. (::crosses fingers::) Here are all the mini-skeins (including those for the trade, the paper portion of which is still drying) sitting in their lovely, elite, yarn-only colander, which I tried steam blocking them in. (Note the requisite tea in the bottom left corner of the shot. This is actually some of Anne at
LiberTeas
's Creamy Irish Breakfast ... If you like tea, you ought to check her out. ;) ::plug plug::)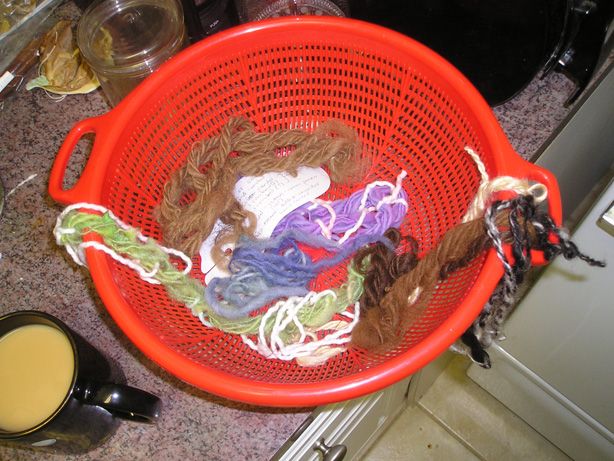 Last but not least, I started a washcloth for a bath-themed swap -- my first washcloth ever, but at least I understand the short-row technique thanks to all those corkscrew scarves I made. ;) (Two? It seems like a lot more, somehow...) It's looking pretty cute, actually, and I might have to make one for me ... Also worked on the KYOAMPi at last. I'd better put a lifeline in sometime soon or I'm going to end up screwing up the last row and having to rip
everything
out again when I notice at the last second before Clue 3 is posted that something's wrong.