Here's KYOAMPi v2: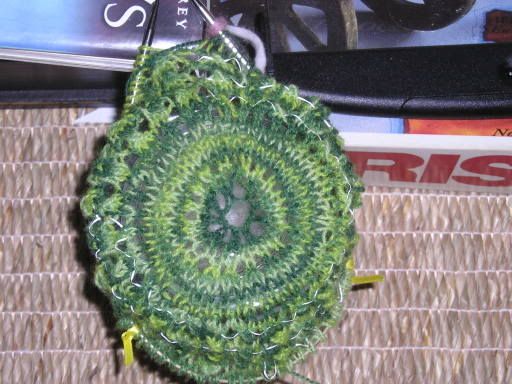 I ripped the entire thing and re-did most of the "pre-clue" portion at the eye doctor today while waiting for my mother to be done with her appointment; and then I did through the clue (I chose option C: the 3x3 leaf) tonight,
mostly
before the second clue was posted. And
then
I spent like an hour writing and sending rejection letters and cleaning up the files section of the submissions group and other such adminly things ... Always a good way to make sure my brain is fried before I have to stare at tiny strings for further brain-fryage points. ;) The lace portion of the shawl isn't really visible in that shot, and I do have a shot of it, but it's not very exciting right now, I promise. Anyway, I did fulfill my Knitting in Public obligation for this week at least.
I also washed up some brown llama and am waiting for it to dry on a drying rack in the bathtub, so I can spin up some samples for doll hair.
The next few days shall contain: sample spinning, RAK spinning, mini-books for a swap, hopefully put-togetherage of more RAK packages, and continued knitting on the KYOAMPi. Whee.