Today I finally unwound my spinner's magic yarn ball; I just couldn't bring myself to try to knit from it without knowing exactly what I'd be knitting with, especially since there was an inner yarn of unknown proportion and color buried under the outer yarn. Here's the result!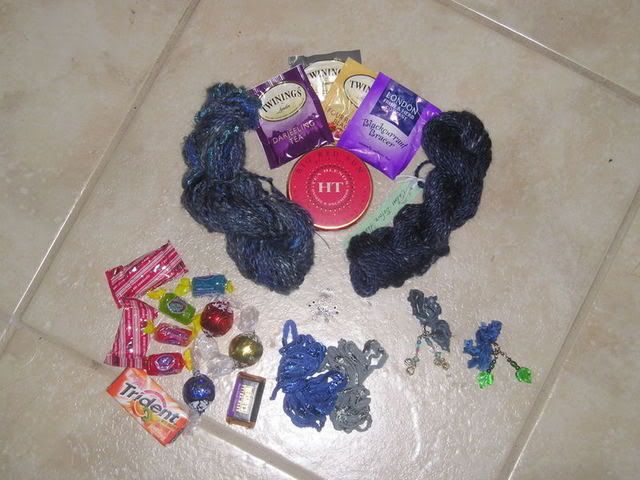 There are two 41ish yard skeins of lovely two-ply handspun, one dark blue with white streaks, and one a lighter blue with a lot of variations, plus inclusions of other yarns. There was also a yard or so of really neato supercrazy yarn included, that isn't in the shot -- oops. The sender suggested they might make a nice bag, which they would, especially with the supercrazy yarn for a strap, but I may end up adding in more yarn and making a rather eccentric shawl...
The goodies included a variety of most welcome teas and candies (BTW, Jolly Ranchers are apparently more subject to mild heat messiness than wrapped chocolates at this time of year in Florida, in my situation ... who'da thunk?) plus some gum to restore my teeth to sparkling after the sweets ;), some random fibers, some Very Cute stitch markers (yay! I can always use more of those! ;D), and a fun skull and crossbones pendant I'll have to put onto a necklace sometime soon, so I can wear it while knitting the yarn and spinning the yaywondrous fiber that also got sent. Thanks again to my magic yarn ball swap buddy!
In other news from the swapping world...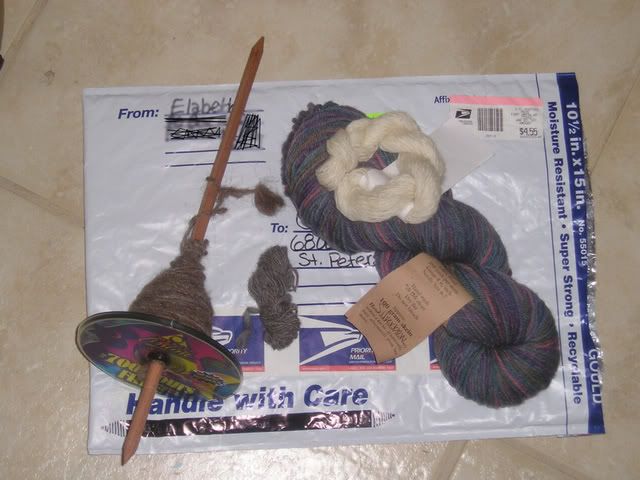 In the upper right, below the cream-colored yarn, we have the skein I received from my Mystery Skein Swap partner, for which I already have ideas and with which I will embark on my knitting adventure sometime in the next couple of days. It's 250 yards of apparently worsted-weight (though the label has some interesting gauge info -- 16 stitches per four inches with size 6 or 7 needles?) hand-painted wool in colorway "Silverbow." (Which sounds like a Reference to me, BTW. ;))
Then there's the cream-colored skein, which is my finished approximately thirty yards of fingering-weight handspun for the Spin to Knit handspun swap. The stuff on the CD spindle is the alpaca I'm also working on for that swap, which measured out at barely above 60 yards today, so now I get to decide if I'm plying it, and if I am, with what. The little grey skein was test-spun from part of a spinning bell I acquired in someone else's destashing frenzy -- I love the variations in the gray and will have to think of something fun to knit with a not necessarily next-to-skin yarn that nonetheless deserves to be shown off.
Finally, we have a (virtually) finished, quick selfish knitting project, inspired by my Mystery Skein Swap partner's own versions of it: I present Calorimetry!
It's knit in a soy/wool blend I picked up in a fit of "can't resist this yarn" shopping at Michaels a few months ago. I can't remember what it's called off the top of my head, but the colorway is "Natural Blues," or something similar. I did get it out of one skein with a few yards left over, though I killed part of the yarn during my first attempt at casting on. Being a rather fat and slubby non-tightly-spun single, it's not the sturdiest stuff in the world when subjected to repeated friction, but it's holding up decently in the headband/hat itself, which I wore in yesterday's jacuzzi-located escape from the Florida "cold." ;) I love the long color repeats in that yarn -- must think of something else I can knit from it, that won't suffer from being mildly scratchy...
End report. ;D As usual, signing off with hopes of more reports soon...