After the famine comes a feast: today is the day of photo dumpage, meaning I finally uploaded a bunch of the photos I've been taking. I may not actually dump
all
the photos I have to dump ... ;) [Note: I did. Ha. ;)]
One of my latest finished projects is -- ta-da! -- the Jamaica bag, from
One Skein Wonders
:
And that's for
me
, ladies and gentlemen. Yes, I finally finished something else for me. I'm on a bit of a roll. ;) Going through the UFO list will necessarily make me knit for myself, since I tend to neglect me most, by starting things for me and then rarely finishing, which takes up space
and
keeps the stash static. Hiss! Now that I'm mentioning stash, though, I should note that
all
the knit projects in today's photodump were knit from stash. The Jamaica bag is stash left over from yarn I bought for knit Christmas ornaments.
I've also knit another bag lately, this one a semi-angel for the April Fool's Fun swap on Swapbot: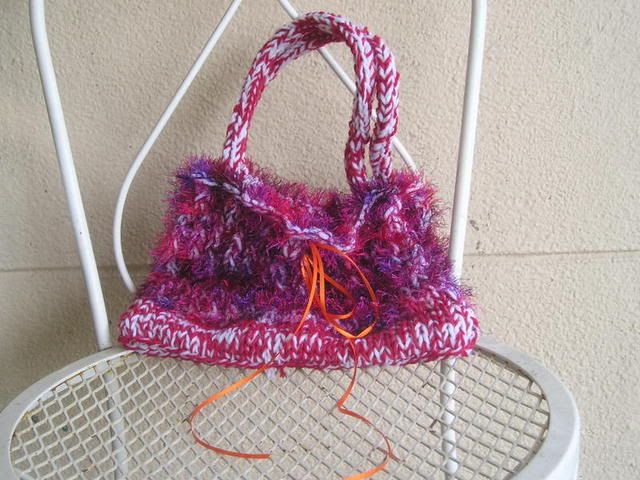 That's a version of
Purl McBigBottom
that I'm calling Funky Purl McBigBottom, also, as noted, made with stash yarn: some white acrylic and an expensive Fun Fur type yarn for the main body, with some red worsted weight cotton thrown in at the bottom where I ran out of furry stuff, and in the handle for coherence. Yay. ;D That's two yarns that I've had for a while, and some random red scraps I wasn't sure what to do with. Great success!
The other item I made for that same swap is this shawl: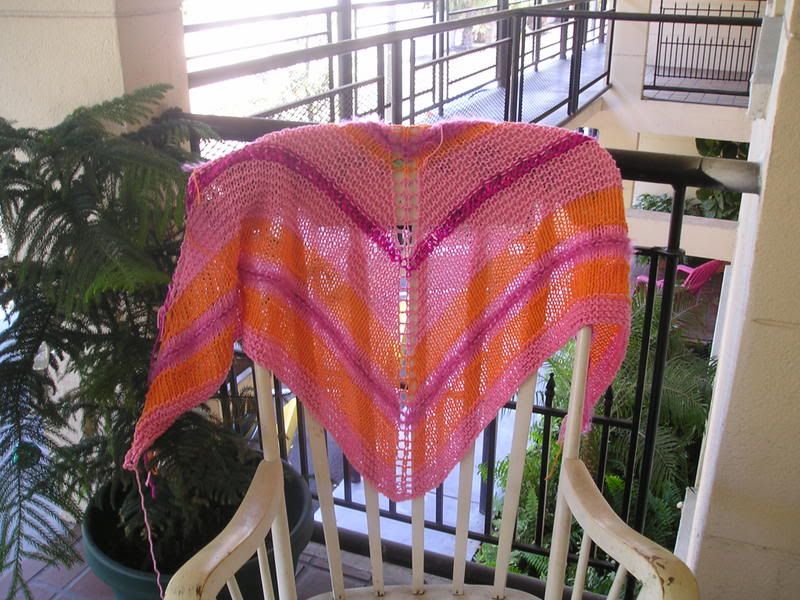 Because I've been wanting to knit a shawl for a while even though Florida is the Land of No Shawls. ;) I haven't woven the tails in on that one still, since it isn't going out till the recipient has an address again (positive vibes to her on her husband -- possibly soon ex-husband? -- situation), at the very least. That's all straight from the stash, including some pink for Faire bunny slippers I never made, some orange left over from Halloween, some random fuzzy stuff from a scarf for my sister and for which I have developed a hatred, and some sparkly pink stuff from a necklace knit as part of a trade. I'm working on another on a similar design, using the same
Simple Yet Effective Shawl
pattern, for a private trade with the swap coordinator for April Fool's Fun. ;D I'm also making her a pair of matching wristwarmers, which brings me to...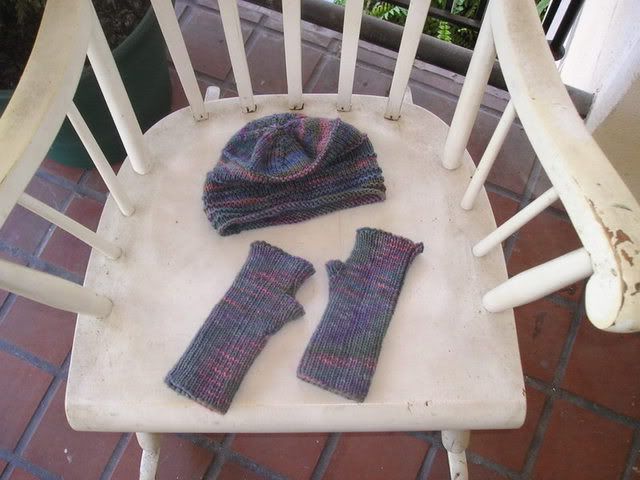 ...the items I knit for the
Mystery Skein Swap
, which were received yesterday, and well appreciated, by the lovely
Elabeth
(good luck to her on her new knitting shop endeavor :D), who apparently has been thinking of knitting some wristwarmers for herself but hasn't gotten to it yet. Hurrah. :D That yarn, entertainingly enough, is
also
stash ... just not
my
stash. Part of the idea of the Mystery Skein Swap was to have someone make something for you out of something you obviously have a bit of a block on ... like everlasting stash yarns. ;)
I've also been arting a bit lately (which is much prettier than it sounds, I hope ;)), including carving a neat stamp based on a mandala. I kind of wanted to keep the stamp, but at least I still have the test sheet to play with: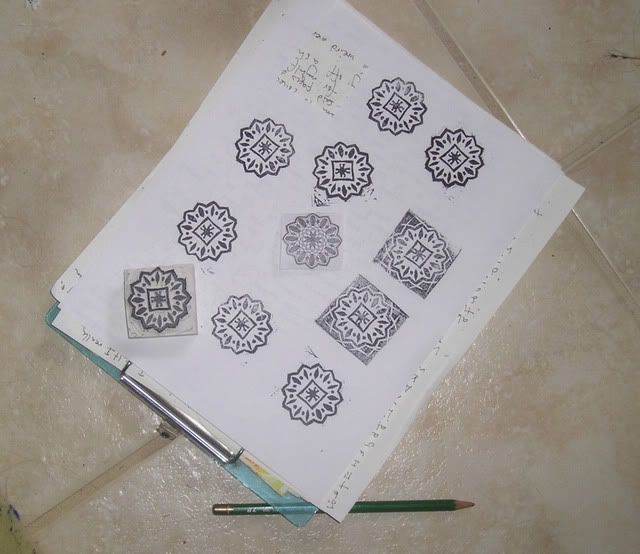 And I seem to be on a purplish theme lately, too; for the Purple Postcards swap, it's pretty obvious why, but the bookmarks and the wish stones weren't required to be purple, sooo...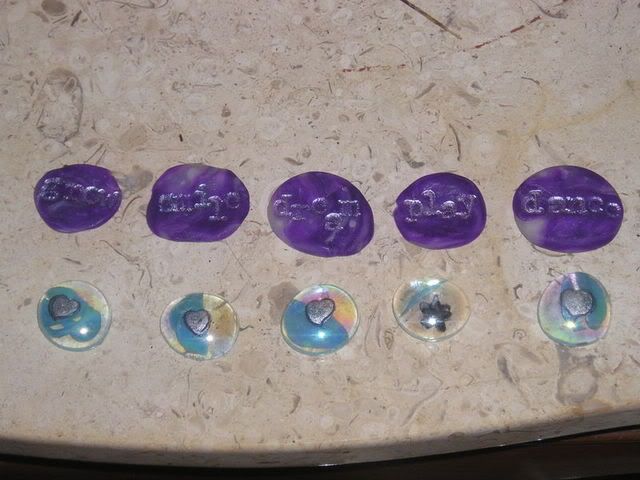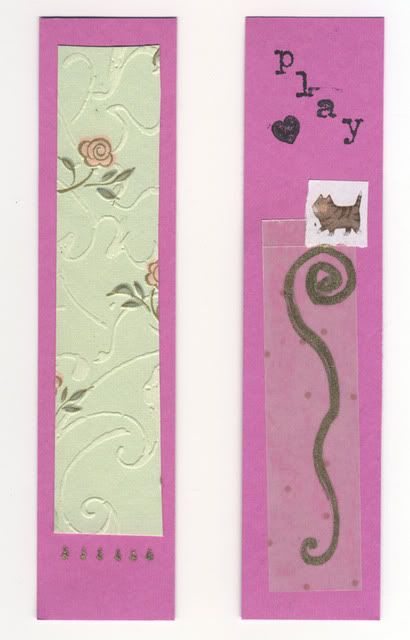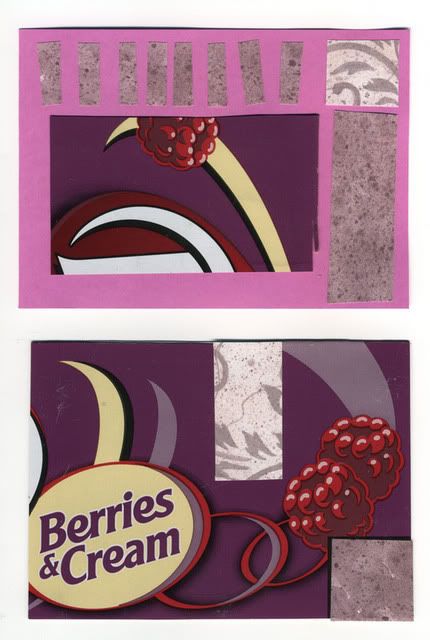 ...I guess it was just a phase. ;)
And that's your photodump for today, that's your photodump for today-ay-ay-ay-ay-ay ... that's your photodump for today. ;D