Here's the skinny on the Socks of Doom v.2: I couldn't bring myself to finish a pair of "lilac" (it looks periwinkle to me, but the ball label says "lilac") socks in lightsabre green or lightsabre blue, so after sitting at the Verizon store for 1.5 hours waiting to upgrade my phone, I took my car, with its suddenly inconsistent engine noise, to Jo-Ann to look for some semi-matching yarn, figuring that I'd be able to find the same color in a different dye lot, at least, which would be better than a pair of periwinkle socks with one bright green toe. ;) But alas! They had every color of the right brand of yarn except the color I needed. So I visited the automotive place and appreciatively received the news that my car would not die on me any time soon, then stopped at Michaels ... where there was magically a ball of not just the same yarn in the same color, but the same
dye lot
as the ball of yarn I was sent from California. Kismet.
But I still haven't finished the actual pair of socks, since in addition to yarn-hunting day, yesterday was Brian's birthday, and I took him to dinner and otherwise was vaguely entertaining on his behalf. I did contemplate the socks this morning, but have otherwise made no visible progress since being halted by my yarn shortage. I'll finish them soon, though. ;)
Now, piccies. First, a photo of my wrapped ornaments for the Eccentric Pastiche swap, just because I think they're cute: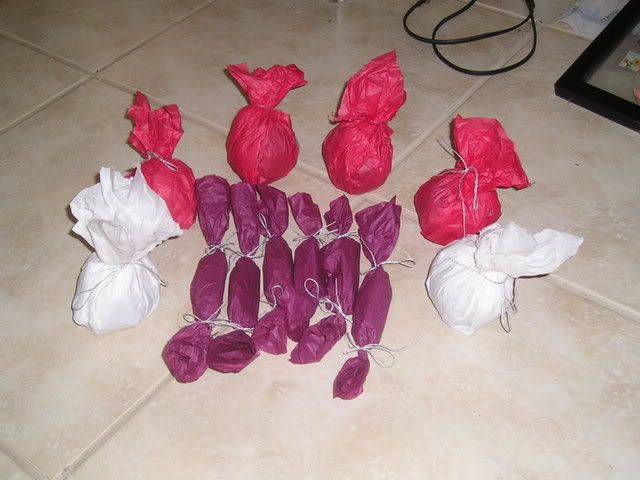 Then the eyelet washcloth I included with my "cold weather care package" swap: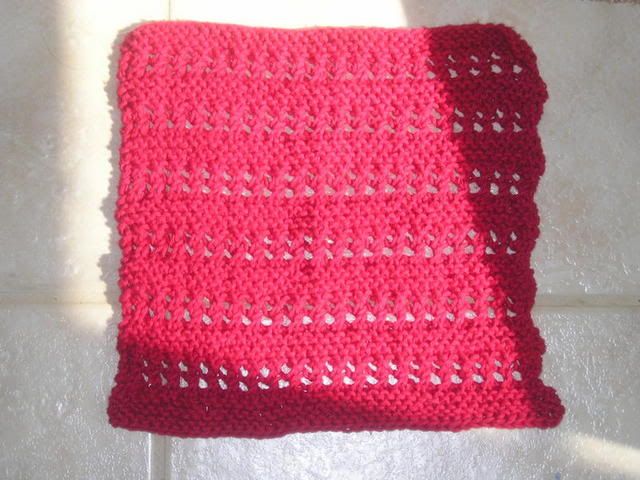 In other news, I've packaged up the semi-late (...le sigh ;)...) "little bit of everything" swap package at last, and it should go out either today or tomorrow. Next up is the spinner's magic yarn ball. I've been looking for India bells to include either in the yarn or in the magic yarn ball, but I can't find the darn things anywhere, which problem I've had for a pretty long while now. I'd have to order them online, I think, but I didn't think I had time to do that, so I didn't, and now I still don't have them. ;) Improvisation shall occur in the next two days. My partner seems super-awesomely-cool for this swap, and I want to send her lots of goodies she'll be just as super-awesomely happy with, so I'm going to buck up and just be a little late and hope she forgives me in her enlightened-soul holiday spirit. I have a feeling she will, but it doesn't hurt to state my wishes, does it? ;D
Continuing with photos, here's some roving I overdyed -- this is the second incarnation of the Kool-Aid dyed peach Merino roving I received in the Spindlers list hand-dyed swap. I kept finding it difficult to motivate myself to spin peach yarn (what was I going to do with peach yarn? Aside from, apparently, giving it to people in swaps ;)), so I took my burgundy Wilton's icing dye and made this: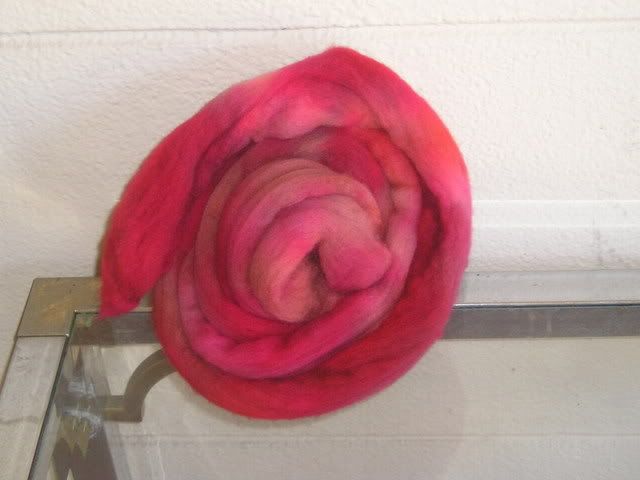 My photos have been very full of reddish colors today, haven't they. ;) It's that holiday spirit kicking in. To mess it up with a little blue, here's a photo of a mini-purse I knit a while back to send along with one of my Superlate swaps (to a swapper who has kindly, if "irresponsibly," ;) not whined on my ratings page at Swapbot):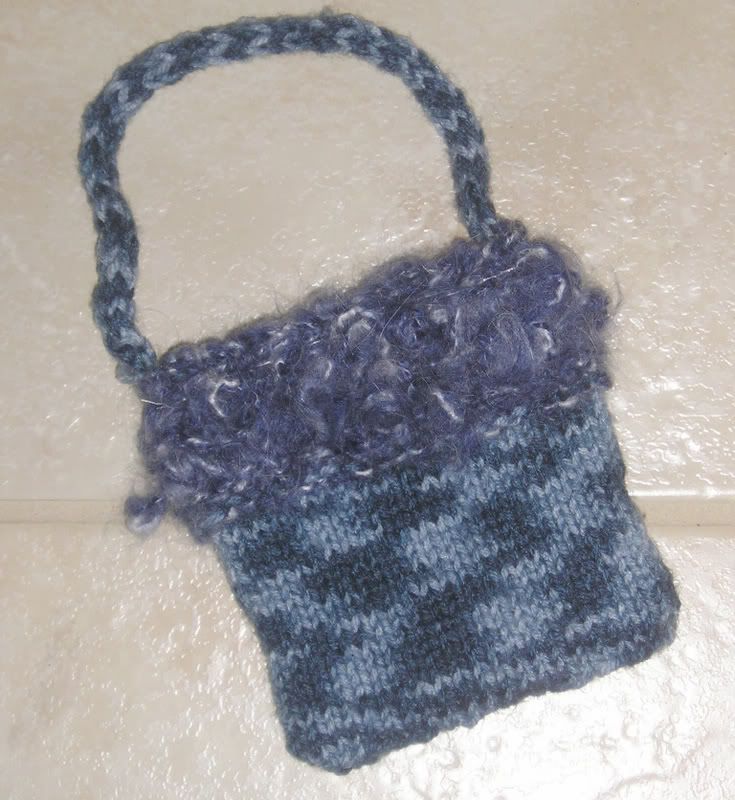 And finally, a completely unjust photo of the awesome Spinner's Magic Yarn Ball swap package that came in the mail for me today!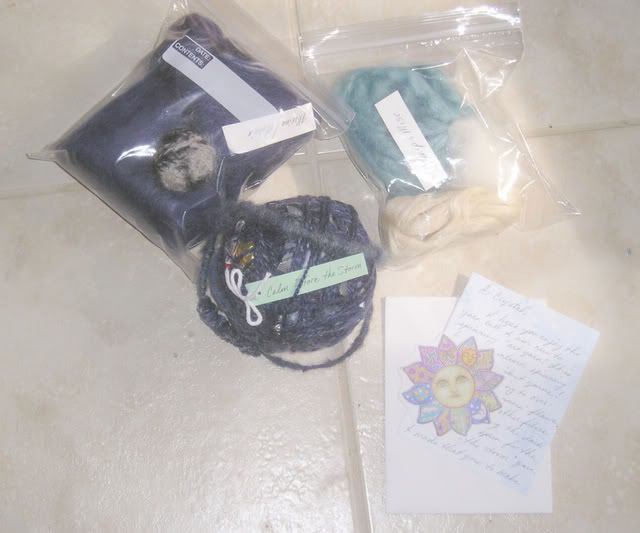 That absolutely does not portray the coolness of the yarn (a lovely soft dark blue Merino blend, if I remember correctly), but I am far far too lazy at the moment to take
good
photos, one of the licenses I allow myself while attempting to be productive. And yes! There is
extra spinning fiber
in my magic yarn ball package -- big beaming thoughts from me! J'adore being sent spinning fiber or yarn as extra goodies in my swap packages ... Much love to my swap partner!
Okay, now I think I'll take my slightly unbalanced (send healing vibes, my dears) self to the post office and send my "little bit of everything" swap so that my partner can receive her goodies. Au revoir for now...