Sent the superlate postcard today, plus apology goodies. Looks like the superlate shrine should go out next week, probably with the only mildly late (with the permission of the recipient ;)) magic yarn ball. In a
Christmas outfit update
, 23 rows are done of the Intolerable Cruelty skirt.
This year I'm asking Ben to knit me something for Christmas ... with my own yarn, to help reduce the stash
and
get me something handknit that I wouldn't otherwise have time for. What I'm having trouble with is figuring out what to have him knit. Doh! I think I may ask him to do some small things, anyway, like finally adding the ribbing to the anciently started vest from knit.1, in addition to untightening the armscyes on the shrug he knit me before.
And because I need gratuitous photos and have none of actual craft-related objects, here's one of Brian and Pearl at my parents' last night. (They're watching her for us since we'll be off doing black powder demo this weekend.) Pearl made a bit of a mess of herself on the drive over, so Brian gave her a bath on arrival, and she gratefully trashed his leather jacket then climbed onto his shoulders and dripped on him. ;)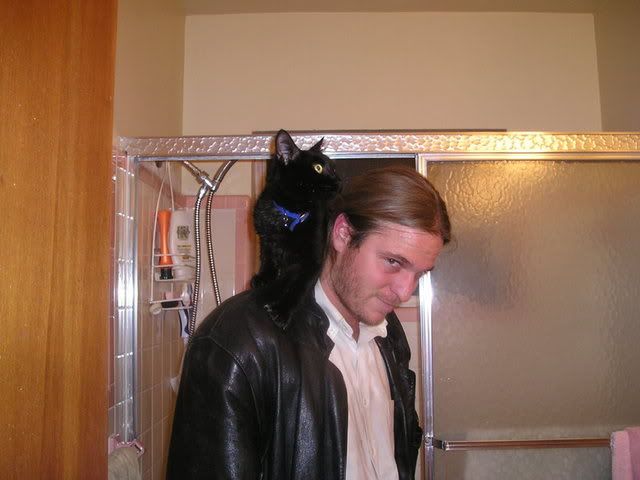 Not that the photo does Brian (with his Charisma of 85) much justice, but gratuitous decent-looking Brianage is better than no Brianage at all.