...the Quicksilver Crafter perseveres. Any extra positive vibes you may have as a result of gratuitous cookies, candies, surprises, and holiday miracles are welcome, though. ;D
Lots of images for the record today! But first, currently on the needles: a pair of cabled Merino wool socks (size 5 dpns and Patons Classic Wool, which is, alas, not superwash), another pair of Irish hiking wristwarmers (size 6 needles, also Classic Wool, these in cream), a pair of lacy stripey socks (KnitPicks Parade, I
think
, off the top of my head, on size mumblemumble needles -- meaning they're kind of a mismatched set, but I don't think the recipient will mind too much as long as the socks fit ;)). It feels like a lot more than that, especially since I still want to start on Brian's hoodie sometime before the first of the year, and I'm going to try to work on something for
me
on Christmas as a gift to myself ... ;) Oh, and I intend on attempting to knit a pair of mittens this weekend, too. (Cue hysterical laugh.)
On Intolerable Cruelty -- It turned out to be Truncated Cruelty, which translates as, "I ran out of time so it turned into a mini-skirt." ;) That's perfectly all right, though, as it was for the Pimps and Ho Ho Hos party and worked nicely with my crazy spandex boots and pimpy pinstriped halter top.
Okay, now on to pics. ;D Here's a baby hat I knit yesterday for Brian's Secret Santa exchange: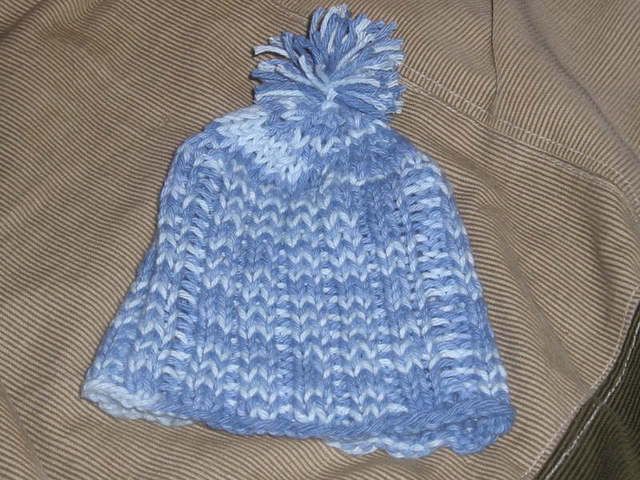 Yes, it has "runs" where the dpns ended, but it was my third attempt at making it and it needed to be done, plus I figured that actually
on
someone's head it would look fine. For my own reference, I ended up using size 4 dpns with generic worsted weight cotton, and I cast on 60 stitches with long-tail, worked one round of stockinette, then switched to 2x2 rib till it was four inches long and then decreased for the crown. First dec rnd: *k4, k2tog,* rep to end; next rnd: knit; next dec rnd: *k3, k2tog,* rep to end; next rnd: knit -- and so on, till I had some small amount of stitches left on the needles, like, er, six or seven, then I broke yarn and put it through the stitches, pulled tight, and added a pom pom by basically tying it into the top of the hat. Whew.
In other yarny news, I haven't posted photos of my somewhat pathetic first attempt at spinning art yarn: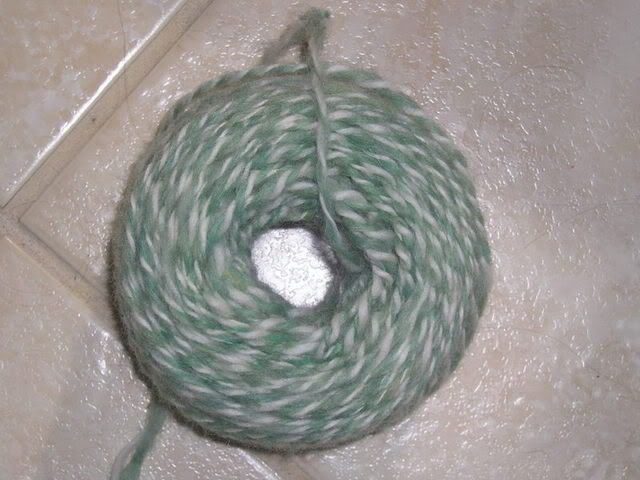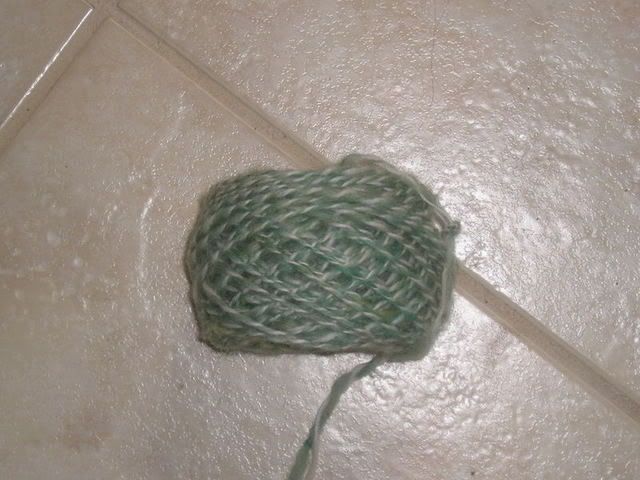 It's not very exciting, is it? It's somewhat thick and thin and has a fair amount of variation in the green ply, because that's spun of Potluck Roving (Ferndale Fibers?), which I think is a randomesque wool and mohair scrap-type-stuff blend. The white ply is Columbia. It's for my magic yarn ball, and I hope my swap partner isn't too bored by it ... Her yarn is much more entertaining and exciting than this, but it's still perfectly decent yarn, and she could always ply it again with something, right...? Also, the second batch of "respun rescue" yarn: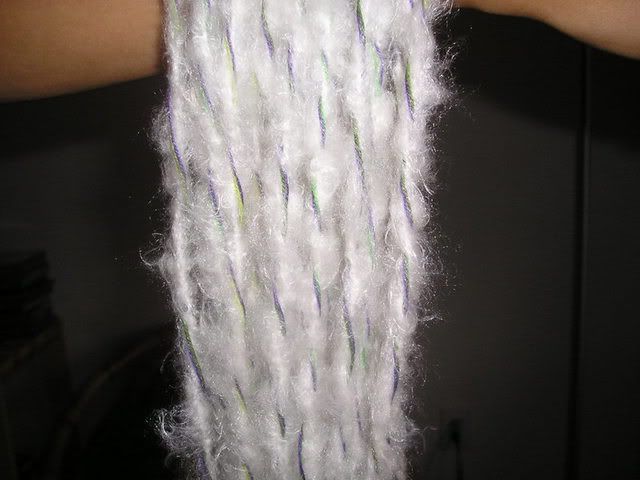 That being more of the Torturous Fuzzy Yarn of Doom as the base ply, and then some random stuff from the thrift store as the contrast plies.
Last but not least, some goodies for my magic yarn ball -- handmade point protectors (the kitty ones were my sister's idea from a while ago, and the star ones are the ones actually in the yarn ball), and hand-made stitch markers (I like them so much I want some for me ;D):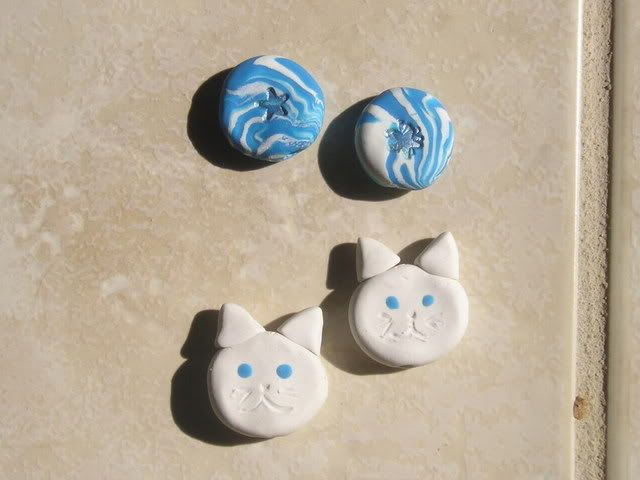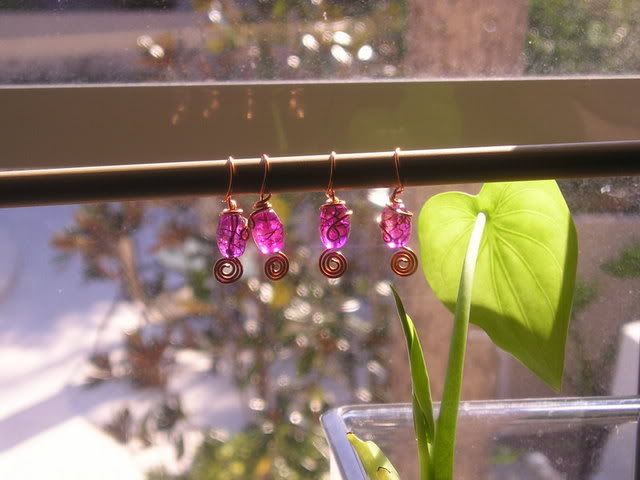 Now, off to knit and knit and knit and knit and knit...