Finally tamed my yarn ... or at least I'm pretending I have. I know, I know. Fateful words for a knitter. Hence, I present the Fateful Swatch, a.k.a. the Swatch of Doom (since there's been a doomy theme around here lately, what with Sock Wars going on):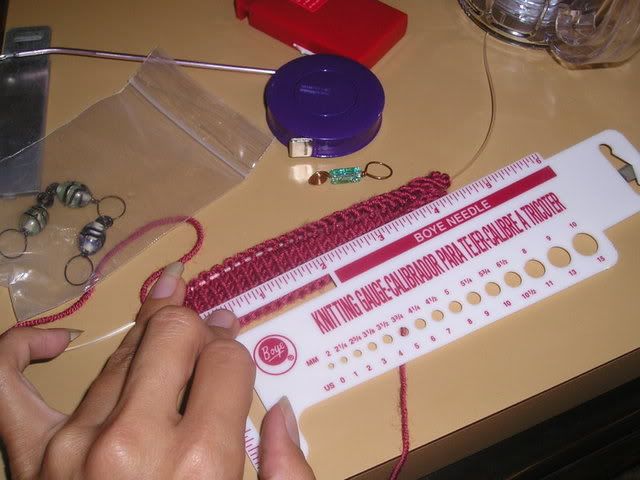 I think
this
swatch is at least potentially too
small
rather than too
large
, which sounds like a bad idea, except that a) knitting stretches and b) I'm small and the finished measurements on the pattern are actually slightly larger than my body measurements, so here's crossing fingers.
For reference, the yarn is Marks & Kattens Orkide (anyone know how to make an acute accent -- or is it accent grave? -- on a PC? I only know how to do it on a Mac and this ain't a Mac. ;) Anyway, that last "e" has an accent over it), which is 20% silk, 40% Merino, and 40% acrylic, in shade 1206, dye lot 33 (at least that's the dye lot of the ball I just pulled out ... no, I didn't check the other balls, because I'm being an evil knitter ;)). The yarn is marked $6 a ball, but was 40% off, so it was really $3.60 a ball. Huzzah.
I shall now proceed to cast on. Wish me luck, O crafters of the world.
(Oh, and the illustrative photo for this post is semi-gratuitous, because it's one of the first two photos to come off my memory card on Dear Brian's computer, which is a new method of transfer for me. Geekly commemoration.)