Today I packaged up my Secret Santa swap, which contains this cute little pouch with some undisclosed gifts inside, in case the recipient of my package should glance at this blog: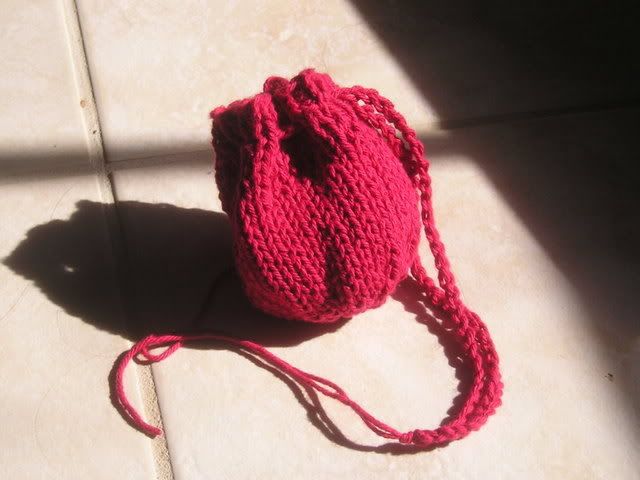 I also finished up the long-ago-begun but never finished "Fie" necklace, for the charming Swapbot swapper who fied me: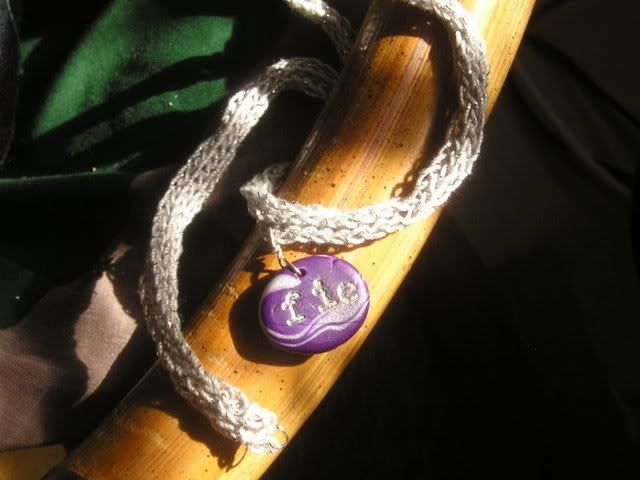 I really like the way it turned out, which was the point, really. ;) I even have one almost assembled for myself, so there will indeed be a fie on me as well as potentially on the original fie-er herself. ;D Also, as I forgot to take a photo of this before, here's the inside of the mini purse that's going out as an apology goodie with the other superlate necklace swap:
And here, at last, are photos of my second pair of Socks of Doom (one being the requisite photo-with-cat):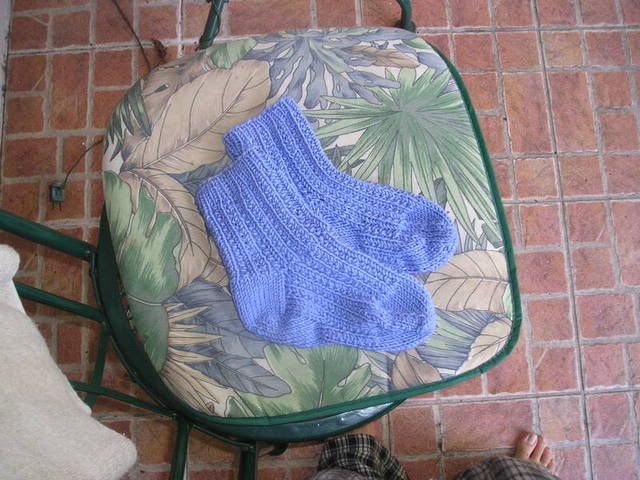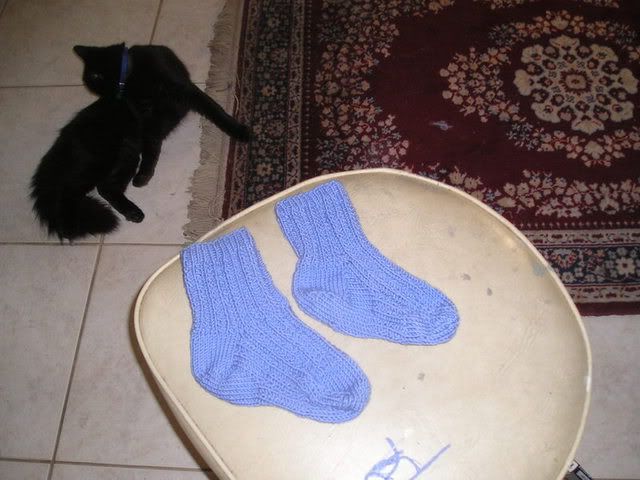 So! My two Superlate necklace swaps are pretty much ready to be packaged, addressed, and sealed, and those will hopefully go out tomorrow along with the Secret Santa package. I had Ben call the Corey Avenue Bead Shop of Lengthy Comma-ful Name for me today, and they don't currently have India bells. Neither does Jo-Ann, and neither does Michaels, and I've known this for a while, but had to re-check anyway for the sake of my spinner's magic yarn ball swap partner. Fire Mountain has them, but Fire Mountain is mail order, and phooey on that. Oh, well. I wanted to put some in my art yarn, but since India bells are such a scarce commodity at the moment, I'll spin something else fun and wrap up some nice things and be done with it.
Yesterday I dropped by the Palm Harbor yarn and fiber shop during the weekly knitters' get-together and had a pleasant cup of hazelnut coffee (this is not redundant, since I have frequently had rather unpleasant cups of hazelnut coffee ;)), then a nice woman there helped me find some bargain yarn that I'm trying to swatch into behaving well enough to make the
Intolerable Cruelty
skirt out of it in time for Brian's Pimps and Ho Ho Hos party. The yarn actually has silk content -- cultivated silk, as far as I know, which is generally a no-no for me since I loves me little silkworms ... but it's clearance yarn, not yarn in the normal stock, and the silkworms who gave their lives for that yarn will be doubly appreciated for helping me spend as little of my nonexistent money as possible, praise the sacrificial silkworms, yea.
The aforementioned yarn shop also has tons of new sock yarn, including the ridiculous and therefore appealing sock yarn plus aloe. Sheesh. I've been wanting to knit myself some socks for the past month or so, too, so I see sock yarn purchases in my penniless future.
Spinning tonight, if all goes even moderately well, and wish me the luck I'll need to get my yarn for the Cruelty Skirt. (
There's a knitalong
for that, too. Hmmm. Maybe I'll have to join to encourage my lickety-split knitting this week.)
And yes. I am currently suffering from Superlong Sentence Syndrome. Maybe it's because I'm doing Superlate Swaps, and I can't resist the alliteration.