Remember
that little hurricane-shaped shawl pin I made back at the beginning of the month
, in honor of hurricane season's start? You know, the one I'm giving away? The entry period for the giveaway closed last week, and then I was swamped with preparations for the
Tampa Etsy Craft Party
, and then there was Father's Day, and a little appointment with Willow's Herbal Delight Gardens to help me learn about wildcrafting, and a little bit of that unwanted drama that comes with being a human being living among humans ;) ... so yeah, it's been a busy week.
Finally
I sat down tonight and collected all the entries into a spreadsheet. There were 81 entries, total, in blog comments, Ravelry messages, and messages mailed to my inbox.
That was 81 entries' worth of you guys' great ideas, favorite seasons, little-known facts about you, and tidbits of positivity from you to me. Thank you sincerely to every single person who entered — I would have counted myself lucky to get 20-30 entries, but you guys blew that out of the water! It's a rather non-piratical (shh!) warm fuzzy for me to be able to send someone out there a bit of extra cheer in return.
Let's see who won, now, shall we? ;D The convenient and all-powerful random number generator at
random.org
bequeathed upon us its digital wisdom: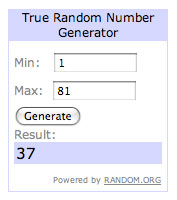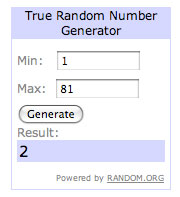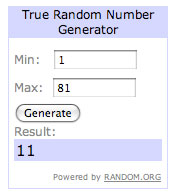 Which, when I look at the spreadsheet, means...
Brandy won the baby hurricane shawl pin and 15% off an item in the Etsy shop!
She wrote, "My favorite season: Winter. Here in Florida you don't get much of a winter but I cherish it while it is here. It never really gets too terribly cold so it is perfect for outside knitting & hot chocolate. I love that it makes me want to cuddle like a little baby."
Congratulations to my fellow Floridian! :D
And the
two runners-up
, who get 10% off an item in the Etsy shop, are:
Lady Judith
, who wrote, "I would love to win your hurricaney shawl pin! Living in California, I have never experienced a real hurricane. My favorite season is Spring because it is my birthday season and all the wonderful fruits and vegetables come to the markets."
...and...
fracksmom
, who wrote, "My favorite season is spring when things bloom, and the days start getting longer."
Hurray for all of you! I'm so glad you won!
But
even if you didn't get picked by the random number generator
, you are wonderful and beautiful and I'm so very glad you came by, so I still want to offer you something! If you entered the giveaway, and you buy anything from
the Star and Crossbones Etsy shop
between now and July 31, 2010, I'll send you a bonus charm pin — that is, a decorative micro-shawl-pin. (Custom orders count, too!) Just drop me a note letting me know who you are when you make your purchase, and I'll make a charm pin just for you and send it along with your order.
It's raining as I type this, and there was a grand old thunderstorm earlier today that I sat out on the porch and watched with a tiny baby lizard and a little frog that wanted to go outside. As my little hurricane pin gets ready to go off to its new home, there's a tropical wave developing in the Caribbean that has a 50% chance of turning into
a tropical cyclone
— meaning a hurricane. I'm not entirely sure what to think about it, except that I'd like to know the gulf oil spill cleanup is a little further along before seeing a hurricane in these parts. You may want to read
the National Hurricane Center's PDF
that describes what they know about the interaction of hurricanes and oil spills.
Ahem. Anyway, happy summer solstice, too! Maybe next month I'll do a sun-themed giveaway? ;)