I made my sister a scarf like this for her birthday, and this one will hopefully go into
my Etsy shop
shortly: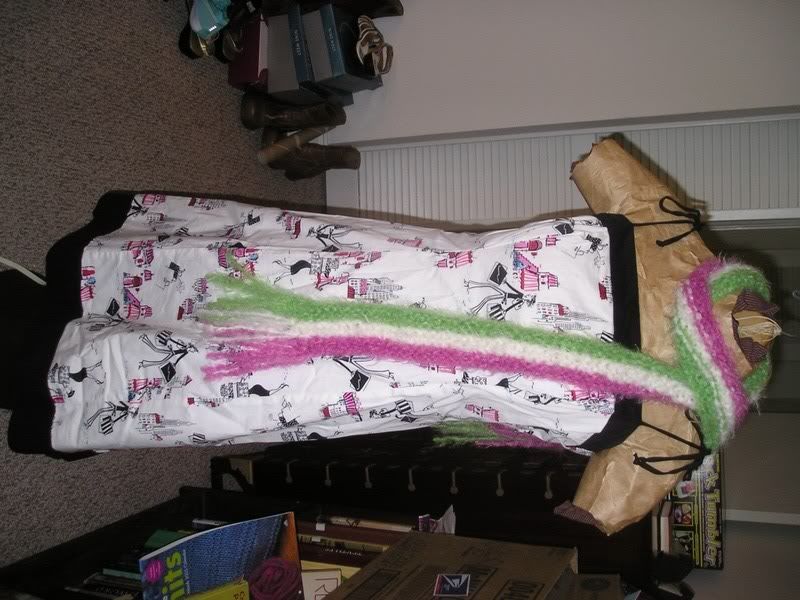 Floofy!
Lately I've cast on my mittens for the
Swapbot Mittens Swap
, and am pondering whether to rip them to the cuff and alter the pattern to add a little fancyfancy, or to just knit them plain ... ponder. Ponder. And now I'm waiting along with
everyone else in the Sock Wars army
to see if the hurricane-spawned storms beating on Ireland are indeed what's keeping (Belfast-based) Yarn Monkey from posting the assassination assignments and sock pattern. The delay might even be useful to me if I want to finish those mittens, especially since I appear to need the needles I'm using for the mittens to get the Sock War sock pattern gauge ... I have a vague idea that double-knit weight yarn in Ireland might actually be sport weight here, because contrary to all past experiences, I've had to go
up
two needle sizes to achieve something close to gauge, and usually I'm at least one needle size
below
the posted/published one to get the same tension. Hrm. Oh, well. I've also discovered that I like DK weight yarn, which I don't think I've used before; I particularly liked the Matchmaker (is it Jaeger? Thank goodness it's not Jaegermeister -- bleh ... ;)) Merino DK on size four needles. Must knit something with that someday...